Two Switch Box Wiring Image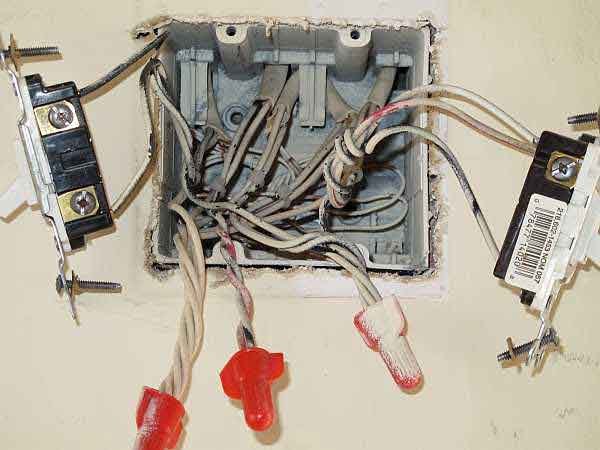 It is not unusual for the wires inside of an outlet box to be covered by spray paint from the initial construction of a dwelling. Common wire is wrapped three times around the two traveler wires for the 3-way switch on the right.
Multiple Light Switch Wiring
With conventional light switch wiring using NM cable, a NM cable supplies line voltage from the electrical panel to a light switch outlet box. Another NM cable connects the first outlet box to the next box(es) and so on until you reach the end of the chain. Before 2011, the "end of the chain" switch was commonly wired using alternate (California style) wiring.
Diagrams shown on this page are simplified for clarity. Electrical outlet boxes can have numerous NM cables going in and out. See "Actual Switch Box Wiring Diagram" below.
Ground connection diagram is shown separately.
Multiple Light Switch Wiring Diagram