Electrical Questions Page 2

New Ceiling Fan Switch Doesn't Work
Charlie wrote: I installed a switch and it only turns light off when switch is in the middle position, what am I doing wrong?
El101: Tell me more about this switch. It does not sound like the usual two pole switch that doesn't have a middle position.
Charlie: I got power from outlet to switch, then to ceiling fans when switch is up or down, still have power to fans, put switch in middle fans turn off. (Charlie sent an image of the switch and it was a 4-way switch.)
El101: A 4-way switch will not work for your fan(s).
Please tell me what would you like to do with this switch. Sounds like you want to turn ceiling fans on and off. Will you be turning and off a fan light with on a different wire on the fan? This will help me recommend the right switch for you.
Charlie: Yes all i want is to turn the fans on and off.
El101: A simple single pole switch should do the job. (It did)
4-Way Switch Troubleshooting
Tracy wrote: I replaced several light switches in my house. I am having trouble with the last light which is connected to three switches. I replaced one 3-way switch about a week ago so I am fairly certain it is connected correctly. But I replaced the other 3-way and 4-way yesterday and something is wrong. How can I determine which switch is not connected correctly or perhaps something is wrong with the new switch?
El101: Sounds like you have two 3-way switches with one 4-way in between them.
Let me know if the individual wires are wrapped around the travelers on each 3-way switch. This helps to determine which terminal each wire connects to.
If the common wires are not wrapped around the travelers, let me know.
How to Troubleshoot Three-Way Switches
How to Troubleshoot Four-Way Switches
(The diagram links helped fix the problem.)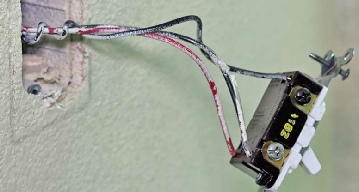 Black common wire is usually wrapped around the two traveler wires on a 3-way switch.
4-Way Switches
Mike wrote: The circuit I have existing has 2 3-way switches and 1 4-way switch to turn on 3 lights. Is this common?
El101: Yes, if there are three switches to turn lights on and off, they would be two 3-way switches with a 4-way switch in between the two 3-way switches.
Connect Light Fixture Ground Wire to Neutral?
Bill wrote: Can anything be grounded to the neutral wire if a ground wire is not present? Say, like a ceiling light fixture?
El101: I am assuming there is no green or bare wire in the light fixture electrical box? Never connect the ground and neutral together. If the electrical box is made of metal, connect the light fixture ground wire to the box. There should be a screw. If the electrical box is made of plastic, don't connect the ground wire to anything.